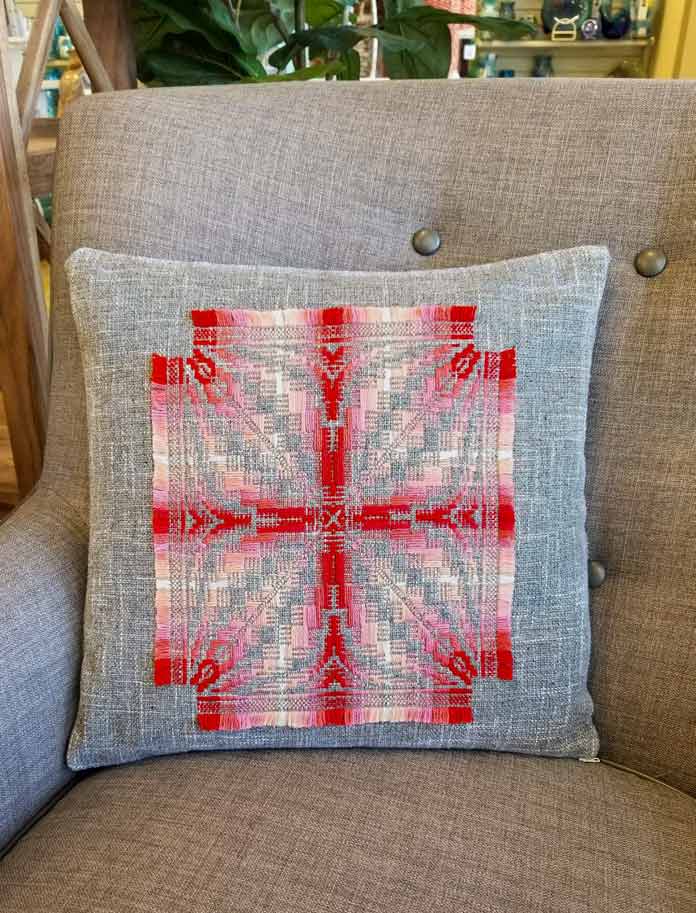 It happened quite by serendipity. Suddenly, I found myself with a heap of leftover yarn. I also found a forgotten piece of evenweave fabric with an attractive texture to it, shortly after. The cloth is a great backdrop for Nizanka embroidery and if I gave the design some pop of colour, it will be quite the topic of conversation.
I thought, cushion cover! All the pieces came together at the right moment.
Nizanka is so perfect for stitching with yarn particularly on this forgotten piece of fabric.
It isn't necessary to fix the thread ends, just leave them on the front side and let them create a fringe. And because it's Nizanka, you don't have to worry about the back side of your work, as the back of this stitching method is always neat!
Gather your leftover yarn, thread them on a needle and stitch. Play with colours. I intentionally omitted the colour key for this design. Use whatever leftover yarn/floss and your imagination.
Read more in our Issue 50.
Download the PDF pattern now.
Designed by Iryna Varabei
Spirit of Belarus
www.ivarabei.wix.com/spiritofbelarus
www.facebook.com/SoB.design