Current Issue!
Click on the cover image to view sample pages.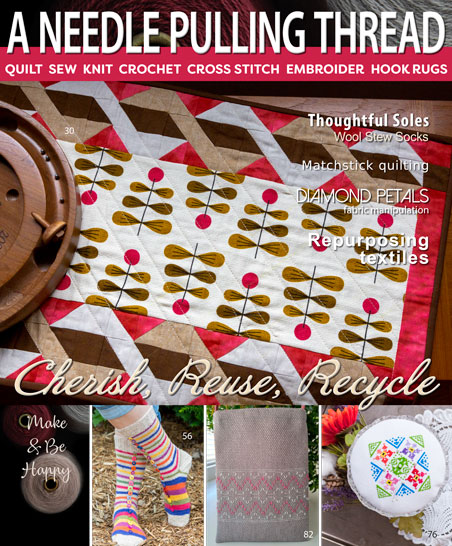 The Repurposing Issue!



This issue is dedicated to those who hold on to cherished textiles in the hope that one day they will be enlightened on how to repurpose them in a new fashion. Call it an upcycling issue if you will, you'll find original ways of transforming knitted and sewn clothing, threads, and cherished items into something new. Also in this issue, are topics like the Monk's cloth crisis, and which cloth is used instead for Swedish weaving, and, Diamond Petals by Judith Marquis, another tutorial on fabric manipulation that looks very much like dragon scales.
It's a pleasure to announce we have a new quilting column, The Quilter's Connection, written by Heather McArthur. See what she has to say about what to do with old and worn quilts. And you don't want to miss the solution to the conundrum about stashing yarn, 'To Stash or Not to Stash' written by Knitting Contributor, Cynthia MacDougall. This is a topic we all struggle with, see how Cynthia's experience helps to put what we think of our yarn stash into perspective and clear the yarn clutter without feeling like we're giving up something precious. Enjoy the issue!
Most.cheerfully,,,,,,,,,,,,,,,,,,,,,,,,
---
Check It Out.
Click the logo above to link to
the needlework pages, your online resource for everything needlework! Find shops, supplies, events and more!
Click here for a list of shops that carry A Needle Pulling Thread Magazine.
Subscribe Today!
SAVE 37%!
(USA and Canada only)
$ 29.95Add to cart
---
Not ready to subscribe yet?
Buy our current Issue 50
(shipping and taxes extra)
$ 11.95Add to cart
---
Thinking digital?
Order our Issue 50 digital version!
(for Mac, PC, iPad, iPhone, Android)
$ 5.95Add to cart
---
Want to see more before you decide?
See our FREE sampler!
Also available on:
FREE

Sample Issues!

Click the images below to view now!
Also available on iTunes and Google Play.
---
Free Sample Issue.
---
Free Ornaments Issue.
---
All Quilting Issue!
Click on cover image to view sample pages.
Published for those who EAT, SLEEP, QUILT and REPEAT, ANPTmag Quilting Book 1 is a stunning collection of simple, fun, and gorgeous quilting projects. Click on the cover to see a Preview. Purchase this digital issue for your iPad, Android, or PC/Mac for only $8.95!
$ 8.95Add to cart
Also available in print!
---
FREE

Newsletter & Ebook!

Sign up for our FREE newsletter and get your FREE ebook:
Elaine's Tech Tips, Quilting with Elaine Theriault!
---