Current Issue!
Click on the cover image to view sample pages.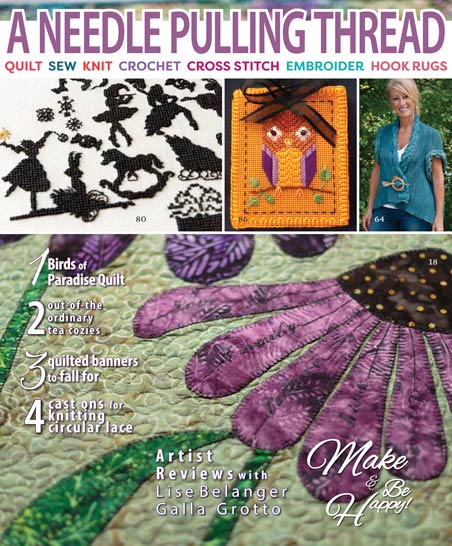 Creativity is in the details…



What to say about our new issue? Pay attention to the details! Details abound and enhance projects taking them from really nice to super special. Take the Purple Cornflower Quilt for example. You'll find loving words like family, love, happiness etc. We encourage you to machine embroider your favourite words across the petals and leaves. Two extraordinary teapot cozies worth taking notice of, one sewn and the other crocheted. This isn't all. There are quilted projects to make using appliqué, free motion quilting, and adding details a little out of the ordinary. Adding bling to our knitted projects, and making the Eggli Vest for a feeling of versatility, wear it 2 ways! Make the Nutcracker Tree in time for Christmas – using only black floss and a little metallic thread for stars. AND we showcase two fascinating women in the world of quilting: Lise Belanger and Galla Grotto. Don't miss their extraordinary pieces of fibre art! You know there's more in this issue…get it, enjoy it!
Most.cheerfully,,,,,,,,,,,,,,,,,,,,,,,,
---
Check It Out.
Click the logo above to link to
the needlework pages, your online resource for everything needlework! Find shops, supplies, events and more!
Click here for a list of shops that carry A Needle Pulling Thread Magazine.
Subscribe Today!
SAVE 37%!
(USA and Canada only)
$ 29.95Add to cart
---
Not ready to subscribe yet?
Buy our current Issue 45
(shipping and taxes extra)
$ 11.95Add to cart
---
Thinking digital?
Order our Issue 45 digital version!
(for Mac, PC, iPad, Android)
$ 5.95Add to cart
---
Want to see more before you decide?
See our FREE sampler!
Also available on:
FREE

Sample Issues!

Click the images below to view now!
Also available on iTunes and Google Play.
---
Free Sample Issue.
---
Free Ornaments Issue.
---
All Quilting Issue!
Click on cover image to view sample pages.
Published for those who EAT, SLEEP, QUILT and REPEAT, ANPTmag Quilting Book 1 is a stunning collection of simple, fun, and gorgeous quilting projects. Click on the cover to see a Preview. Purchase this digital issue for your iPad, Android, or PC/Mac for only $8.95!
$ 8.95Add to cart
Also available in print!
---
FREE

Newsletter & Ebook!

Sign up for our FREE newsletter and get your FREE ebook:
Elaine's Tech Tips, Quilting with Elaine Theriault!
---