Thank you for visiting us to see who makes up our cast of editors and contributors at ANPT! The team is made up of skillful, knowledgeable, personable ladies with a strong passion for what they do. They are experts in their respective categories of needlework, who also enjoy other forms of needlework. They bring to ANPT magazine the most inspiring works from across Canada in every fabulous issue! John, the gentleman of the team, pushes the enterprise forward with his excellent business skills and makes each issue look its very best! – Carla
As a child, Carla was always fascinated with her mom's sewing and was close by every time the sewing machine was on. Her mother had a passion for sewing from a young age and because of her, Carla developed an appreciation for sewing with beautiful fabrics. Carla was also intrigued by her grandmother, who could whip up any kind of garment that fit like a charm! But being busy with school, learning classical piano and swimming, she hardly had any time to get involved in needlework. She was born of Italian parents in Montevideo, Uruguay, and they immigrated to Montreal when she was 3 years old. Her father was a barber on weekdays and a passionate musician on weekends. By the time she started grade 2, she could speak Italian, Spanish, French and English, which later inspired her to get her Bachelor of Arts in Modern Languages at McGill University. She married John De Fusco after graduating and worked for RBC and SunLife, where she learned the art of good customer service. They moved to Newmarket, Ontario in 1990 where she was introduced to cross stitch on the GO train to fill the 45-minute ride to work and another 45-minute ride back home. On the train is where she accomplished a lot of stitching. Once she started A Needle Pulling Thread magazine, she discovered other forms of needlework and delved into rug hooking. Most recently she picked up knitting. Carla believes that anyone can achieve their goals if they set their minds and determination to it. A Needle Pulling Thread is a magazine that reflects this with every fibre artist she brings together in every inspiring issue. The magazine also reflects that…well…life is just better with needlework!
---
Carla A. Canonico
Editor-in-Chief

John
.

De

.

Fusco
Publisher
John has followed a circuitous path to the magazine publishing business, through engineering and business schools, careers in the financial, IT, and telecom industries, and a relocation from Montreal, Quebec, to Newmarket, Ontario. John was in between jobs in 2005 when he made the decision to join Carla in her fledgling enterprise. It was certainly a leap of faith out of the comfort zone, outside of the box. Everything was going the way it was supposed to go, and they decided to turn it upside down. Yet they wouldn't want it any other way. It is a coming home of sorts for John. His parents immigrated to Canada from Italy and found work in the thriving "schmatta" business in Montreal. John remembers vividly the dinner table talk about the shop, the piecework, the foreman, and the union. Though John doesn't partake in any needlework, he still feels a very close connection. John draws inspiration from the classic films of the 30's through 50's, and from the fact that many of the readers of A Needle Pulling Thread grew up in the 60's, in the era of the Beatles and Stones and Woodstock…of Vietnam and landing on the Moon. John is also inspired by his life-long passion for music and photography. But most importantly, John is inspired by Carla's vision of a better world, and her passion for and faith in the needle arts. John works with Carla on the photography and layout for A Needle Pulling Thread, and looks after the day-to-day business administration. John also administers the web site as well as "The Needlework Pages" (www.theneedleworkpages.com), the online directory for everything needlework.
Meet the ANPT Team.
---
Nellie Holmes
Quilting Editor
Nellie Holmes is a quiltmaker, pattern designer, editor, teacher, and author. She works fulltime in her studio in Elizabethtown, Ontario. She is also the Quilting Editor for A Needle Pulling Thread magazine.
She graduated from St. Lawrence College with a Diploma in Craft and Design and a Certificate in Fibre Arts – Quilting. Nellie has been quilting for 20 years and has lectured and taught workshops on quilting throughout
Canada and the USA. She is a member of The Canadian Quilters Association, The Thousand Island Quilters Guild, The American Quilters Society, and Thousand Islands Artists.
Nellie started her pattern company, originellie's in 1998. In 2004 Nellie and Christine Baker formed Upper Canada Quiltworks Publishing Co. They have published two books, "Rag Bags" and "Rag-a-Muffins", as well as many patterns.
They also design patterns for numerous quilt magazines and fabric companies. They attend the International Quilt Market as exhibitors.
Rosalie I. Tennison
Copy Editor
Rosalie I. Tennison is first and foremost an agricultural journalist who has edited newspapers and magazines, covered a variety of disciplines for radio and has, for over 15 years, worked as a freelance writer for agricultural and general interest publications. It is her connection to the quilt world that introduced her to A Needle Pulling Thread, and she has been supporting the publication in various capacities since its inception.
Rosalie comes from a long line of quilters. When she sought to get her family's quilts appraised, she learned there were very few appraisers who specialize in quilted textiles in Canada and that started her on her journey to learn the skill of appraising quilts. In 2005, Rosalie received her quilt appraiser's certification from American Quilters' Society and became one of only five AQS certified appraisers in Canada. In 2007, she completed a distance education course with the International Society of Appraisers becoming an accredited member of that organization. In an effort to encourage quilters to honour their work and record the provenance of their quilts for future generations, she developed a product called Quilt Record that is a practical, simple way to keep information on individual quilts in a common three-ring binder. Rosalie is kept busy writing and appraising quilts; and, when time permits, she makes quilts and dabbles in other crafts.
Brenda Franklin
Beading Editor
Brenda lives in the centre of Southern Ontario. She describes it as the middle of nowhere but central to everything. At an early age, she decided she would be an artist and pursued that vocation. Portrait work was her main focus and animal expression her dominant subject. This led to requests for needlework designs, a website, distributors, dealers and more than 500 patterns selling worldwide. Along the way, Brenda found
beads and figured out that they were an ideal medium for expressing oneself in so many different ways. She was designing jewellery as a teenager and never stopped. Brenda often says that if she was ever stuck on a deserted island, she would definitely want to have beads along with her because you can string them, weave with them, knit with them, stitch them, paint or sculpt with beads and trim with them. Okay, you can't eat them but with beads keeping you busy, who needs to eat?
This multi-media artist has published several books and articles in diverse publications. Brenda has taught and lectured on many different topics for numerous guilds and groups. She feels that passing on knowledge is the best way to keep needle arts alive. Brenda doesn't know where future passions will take her, but knows that art and design will always be the main focus of her work.
Home life in rural Ontario is ideal and quiet. Brenda's family consists of her husband Glenn, her teenage daughter, Arianna and the family pet, a Shiba Inu named Kodi. When Brenda is not involved in her arts, she is working on finishing the house they are building or playing with her classic car.
---
Luigina Baratto
Assistant Editor
Ever since her time in 'home ec' classes, Luigina has been knitting, sewing, embroidering, beading, painting on fabric, doing pottery and writing. She has kept all those interests alive and at any given time you can find her with several projects on the go, most of which are for gifts or for charity. Her curiosity in the crafts is both in traditional work such as lace making or more contemporary fibre art.
A decade or so ago, to make TV watching more interesting, she picked up beading, simple necklaces at first and then more intricate wire work, which led to cooperative work with her sculptor cousin and to wearable art – necklaces consisting of unique sculpted clay centrepieces married with semiprecious stones, recycled glass beads and fresh water pearls. These are now sold in Italy and Ottawa.
Quilting has been a recent interest, and after a few attempts at traditional quilt patterns to grasp the techniques involved in this art form, she is pursuing more free form quilting and abstract fabric tableaux.
Having recently retired from a career as a public servant, she can now dedicate much more of her time to exploring fibre art. Her latest passion is recycling fine fabrics and everyday objects, such as champagne bottle caps, into clothes and accessories.
Cynthia MacDougall
Knitting Contributor
Cynthia MacDougall has been knitting steadily for over 30 years. Her primary knitting interest is lace, but she enjoys all forms of knitting. She also knows how to spin, crochet, sew, quilt, cross-stitch, embroider, weave, and tat. In the mid-1990s, Cynthia wrote articles for the Ontario Handweavers and Spinners about spinning yarns for lace and shawls. During that time she wrote a regular column for another Canadian fibre
arts publication and served on the executive for the Huronia Spinners' Guild as newsletter editor.Having unearthed her passion for writing and knitting design, Cynthia published a design for a multi-media craft website in 2000. Believing in the importance of communication between retailers and crafters, Cynthia founded Canadian Guild of Knitters in 2002. For seven years she produced Knit Together, a magazine that shared information about people, products, events, and techniques related to knitting. In 2004 Cynthia launched a knitting education program for knitters called the Knitting Accreditation Program. This program is offered exclusively to members of Canadian Guild of Knitters.When she is not knitting or writing about knitting, Cynthia is a full-time secretary in a local government office. Her knitting room overlooks a bay on the Green River just outside Washago, Ontario. Someday, she hopes to get back to some of her other craft pursuits, but, for now, her craft life is dedicated to "the love of knit!"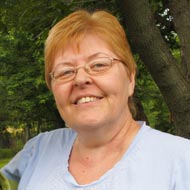 Joanne Gatenby
Cross Stitch Contributor
Joanne Gatenby of X's & Oh's has been designing cross stitch charts based on her original pencil sketches for over twenty years. Over the past few years, this happily married mother of two University students has also been pleased to add the artwork of several artists to her varied selection of designs, creating delightful cross stitch works to please both their fans, and Joanne's own faithful followers.
Her multiple monthly releases include such themes as bewitching fantasy, whimsical Christmas, elegant wedding, touching scenes of days gone by and adorable children. There is something to please everyone from this talented cross stitch designer.
Joanne as been a regular contributor for A Needle Pulling Thread since Spring 2008, and her designs can also been seen in the The Cross Stitcher, Embroidery Canada and Stoney Creek Cross Stitch magazines.
In the past two years, Joanne has been publishing designs of seven fellow cross stitching designers under X's & Oh's, adding even more fascinating designs to her already extensive collection
---
Judith Marquis
Creative Advisor
Judith Marquis is a designer and teacher of smocking, heirloom sewing, silk ribbon embroidery and other hand and machine techniques. As a Ryerson Fashion grad she has worked in many facets of the fashion world from wholesale sales, to retail management, to manufacturing. She is a long time member and approved teacher for the Smocking Arts Guild of America. She teaches in select shops in Canada as
well as from home in Newmarket, Ontario where she houses 'The Wardrobe', a mini store stocked with smocking and heirloom supplies.
Over the past 20 years her designs have been seen in the pages of Canadian Living, Crafts Plus, Chatelaine and A Needle Pulling Thread magazines. Her articles have been featured in SAGA News, Creative Needle and Sew Beautiful. Judith has authored two books, Interlace in Lace and Monograms & Flowers and has her own line of patterns under the name Amberlane & Amberpetites. She is the designer and V.P. at Grace L. Knott Smocking, updating a number of their patterns over the years.
Judith also embroiders, knits, crotches, tats, cross stitches, cooks, attempts to garden and loves to paint but there just are not enough hours in the day for all these since she took up teaching and designing full time!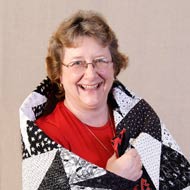 Karen McCleary
Show Representative
Karen enjoys a well rounded approach to the needle arts. Having learned to knit with her grandmother at an early age, she is rarely seen empty handed. As the years progressed and new options opened, Karen tried many of them: macramé, needlepoint, embroidery, latch rug hooking, ceramics, flower arranging, origami, beading to name a few, but she always came back to knitting and quilting. There is something about the warm
coziness of a quilt or a knitted garment that just makes her heart sing!
The teaching aspect came about purely by chance. Karen took some quilting classes, showed off some of her quilts and was asked 'how do you do that'. In explaining it, Karen found that she loved teaching even more than she loved making the projects and from there her teaching career was born.
Karen has had the pleasure of teaching at shops, guilds and retreats. She has shown her quilts both locally and internationally and won the 'Best from outside the USA' at the Vermont Quilt Festival in 2006.
While attending the Creativ Festival® one fall, Karen met Carla and John and proposed a beading article for A Needle Pulling Thread. The rest as they say is history; the article was written and published in the Fall 2007 issue. Since then Karen has had the honour of joining Carla and John in their Creativ Festival® booth spreading the word about this great magazine.
Derek Goode
Graphic Web Designer
Derek provides us with designs and illustrations for A Needle Pulling Thread. He also helps with the layout for the magazine and maintains the company websites, along with other creative duties as well.
He has worked in the corporate and private sectors within the graphics industry developing over 10 years of diverse experience in the sign and print
environments, as well as working freelance for various projects on the side.
He graduated from Ontario College of Art & Design with an honours diploma in Fine arts, and is also a graduate of Humber College in their Graphic Design and Web Development programs.
Derek's draws from his influence of growing up in pop culture such as movies from all genres, comic books and television shows. He has been inspired by the works of the Group of Seven, Dali, the Great Masters of the early and late renaissance, 70's artists such as Frank Frazetta and Boris Vallejo, and learned a lot about painting watching William Alexander, and Bob Ross back in the day.
He enjoys spending time expressing his creative side with his new passion for web design & development, as well as sketching and painting with a tablet.
---
---
Chris Wokral
Quilting Contributor
Chris grew up in pastoral Port Perry, Ontario to Austrian and Dutch immigrants. His upbringing was a mixture of his father's eclectic industrial metal salvaging company and his mother's elaborate doll making and collecting business. Some of Chris' earliest memories exposed him to the arts and crafts that were so common within his extended family. Often, while visiting his in-laws, Chris was set to task with their various fabric art hobbies; in an attempt to keep his idle hands occupied and out of trouble. These included needlepoint, cross-stitch, knitting, crochet, weaving and tatting. Even at a young age he both, admired the works his family created and enjoyed learning their crafts.
Throughout his years in school, Chris enjoyed and excelled in the arts, growing to include other disciplines such as sculpture, pottery, photography and printing. He ultimately pursued his post-secondary education at Ryerson University where he graduated from Graphic Communications Management and successfully joined the industry. The time he devoted to fibre arts waned until, on a whim, he decided to make some curtains for his cottage. With this mission in mind, he pulled out his mother's sewing machine, only to find its mechanisms were seized. It was then that Chris started looking into new sewing machines. He was amazed with all the advances in computerized sewing machines, and developed a passion for the combination of precision mechanics and computerized technology. From this, his interest in fibre arts was renewed. He soon purchased a used sewing and embroidery machine, however soon realized that his knowledge of sewing extended little more than the simple pencil-case he had made in grade-school. Walking into a local quilting shop one day, he was introduced to a wonderful community, and with their patience and support, began learning how to quilt. While Chris has just started his journey in the quilting world, he is excited to learn more and share his experiences. Thus far, Chris has enjoyed great support and success with his works that combine his diverse personal background and his profession training in media, printing and technology.
---
Thank you for visiting our website, the online companion to the quarterly magazine, A Needle Pulling Thread. Every issue of A Needle Pulling Thread encompasses an interesting variety of needlework: quilting, fibre art, knitting, crochet, rug hooking, cross stitch, beading, creative sewing and many forms of embroidery! It explores, discovers and shares our passion and creativity for the needle arts while providing inspiring projects with full instructions. Quilting and knitting are predominant categories in every issue, where three to four projects and articles are featured. Special features, like 4-part projects, are frequent in the magazine.
The magazine highlights the designers who bring the projects to this stimulating collection of needle arts, showcased with exquisite photography. It offers educational, current and historical articles of any one facet of needlework, as well as articles about creativity to enhance your needlework experience wherever you might be on your creative journey.
ANPT is the only Canadian magazine about Canadian needle and fibre arts from coast to coast! Do not miss out on a single issue, as each is packed with projects and information which we hope will surpass your expectations in these challenging economic times.
Coupled with ANPT is our online directory,
the needlework pages. This complete resource for everything needlework lists over 4500 current entries to help you find shops and supplies across Canada and North America. Read shop reviews and ratings and event listings and get information and maps for every shop on your list!
Life is better with a daily dose of needlework! Sit a spell and explore more ways to be creative with your passion for the needle arts!