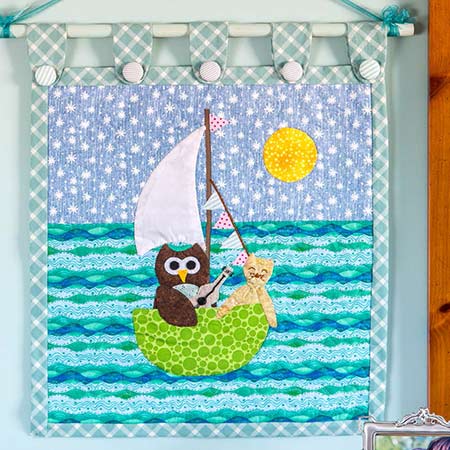 Edward Lear (May 12, 1812 – January 29, 1888) was a British author and illustrator whose book of nonsense rhymes delighted children for generations.
His poem, the Owl and the Pussycat tells the story of two species crossed sweethearts who escape convention and find happiness after a sea long voyage. Since it was first published in 1871, children and their parents have snuggled down to hear the story and wonder about the runcible spoon featured in the wedding feast.
Educators have long touted the value of reading to children, nursery rhymes and nonsense poems in particular. The words don't have to make sense in order for them to become favourites. Kids love the rhythms, since many of them are also set to music, it is a great way to introduce the relationships between language and music.
This wall quilt, like all heirlooms, will take a while to put together. It will make a charming addition to any child's room, along with a copy of the book. There are several lovely illustrated editions available.
Read more in our Spring 2014 issue.
Designed by Nancy Devine
Heaven is Hand Made
[email protected]
nancywhiskeynancyo.blogspot.com