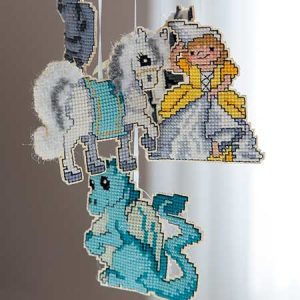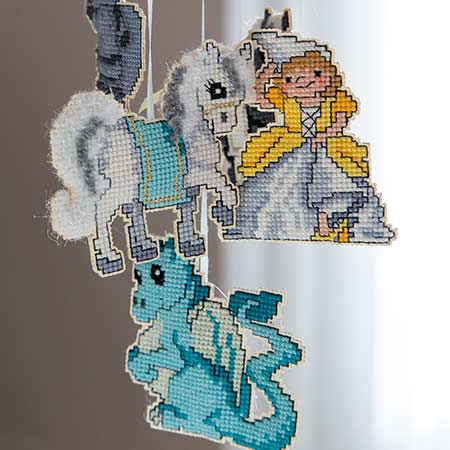 The idea of a baby mobile seemed interesting, but the theme was hard to decide on… teddy bears? baby animals? a nursery rhyme? dragons… hmmm that would be different. The idea bloomed and grew, until the whole vision was bright in my mind. The little princess, with her dress a bit too long, and her mama's shoes, the little knight having trouble with his visor, it all came together better than I could have hoped!
Stitched on 14ct perforated paper, this model is entirely full-stitch, with details being added by the backstitching. Special touches are added by using shiny braids and fuzzy floss, as well as fine ribbons and seed beads! If there is no needlework shop nearby, all of these items – including the perforated paper – are available from X's & Oh's.
Read the stitching and assembly notes carefully, as some of the backstitching also serves to connect the front/back pieces together. And one final note before beginning – once the model was stitched, Jo decided to add one more colourway (not shown), so for a more colourful finish, use the red colourway suggestions provided.
Read more in our Spring 2014 issue.
Designed by Joanne Gatenby
www.xs-and-ohs.com
[email protected]
model stitchers Mary Bottorff and Katie Schroeder