Knit Together with Cynthia MacDougall
When I was younger, the woman at the local general store kept asking me when I was going to have a baby. I kept explaining to her that "I was not here to have babies, I was put here to knit for babies." And I do.
That woman's grandchild received a full layette, with leggings, a jacket, a tam, and little mitts. It was one of my first commissioned pieces. About the same time, I made a baby dress out of Beehive Astra, just because I liked the look of the pattern.
Over time, I made other things: a Fair Isle set for the lady who operated the cafeteria at work; a Nordic "ski set" with leggings and snowflake sweater in mint green; a little owl vest; premee sets for hospital auxiliaries; a cow outfit for my niece (who is now 19); and numerous pairs of mitts with hats. But by far, my favourite thing to knit for babies is what I call "bootees with knees."
Bootees with knees was my name for "long bootees" a pattern that was very popular in the 1940s. My Great Aunt Christie, a spinster all her life, made dozens of pairs of these useful garments, and it was an honour for me to continue the tradition she started. I remember one time when I visited her – I could only have been about 6 or 7 years old – she had all kinds of pairs of bootees set out on the day bed in her sun room.
Read more in our Spring 2014 issue.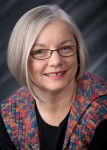 Article by Cynthia MacDougall
www.CGKnitters.ca
blog: cgknitters.blogspot.com
ravelry name: macknitnow