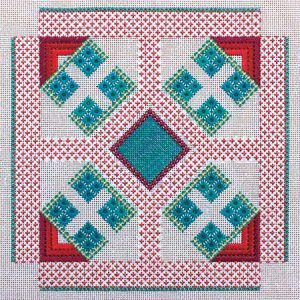 Welcome to Part 2 of our Mystery Project! This project is worked over four consecutive issues of A Needle Pulling Thread Magazine. starting with Part 1 in the Spring 2009 issue. The overall piece will remain hidden until the last of the four issues. Each issue will reveal a portion of the project to stitch. Information on the different threads used in the project will be discussed. Step-by-Step instructions and diagrams will be included. Have fun learning and working with new fibres and threads!
a lesson in canvaswork
This lesson focuses on the silk fibres used in this design.
Different fibres and brands of fibres are being used to obtain similar depth in the design. Each company offers different values and hues in their line of colours. It is not always easy to take a design and transfer threads of similar colour and get the same shades, tints and tones in the same locations in the design. Choosing the right colours does take a long time in order to achieve high-quality result as the texture of the different threads too, play a big role on final design.
Read more in our Summer 2009 issue.
Designed by Carolyn Mitchell