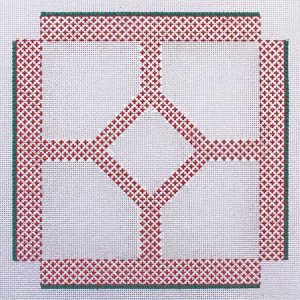 Carolyn Mitchell has devoted the past thirty-five years to sharing her love of textiles, thread and creative stitchery with all those she meets.
A National Standard Council of American Embroiderers (NSCAE) certified teacher and talented designer, Carolyn has also owned and run a very popular needlework store, Mrs. Twitchett's Eye, opening in 1988 in Whitehorse, Yukon, then moving to Fort St John, BC and later in Winnipeg, MB until her retirement in May 2008. Without the help and support of her family Carolyn would not have been able to accomplish so much. Reg has been her bookkeeper and home support since his retirement and has enabled Carolyn to devote most of her time to designing much to the delight of her students and guests.
As an active member of the Embroidery Association of Canada (EAC) since 1977, Carolyn has become a well known educator and advocate of her favourite forms of needlework. Because she travels frequently and teaches by invitation in many communities across Canada, Carolyn is much in demand and often designs pieces based on colours and textures that she sees on her travels.
Carolyn is equally at home with Canvaswork, Hardanger, Blackwork, Bargello and Counted Thread as well as Smocking and Pulled Thread Work. She frequently uses stitches and techniques from the different forms of needlework to achieve the exact 'look' for her current project.
Read more in our Spring 2009 issue.
Designed by Carolyn Mitchell