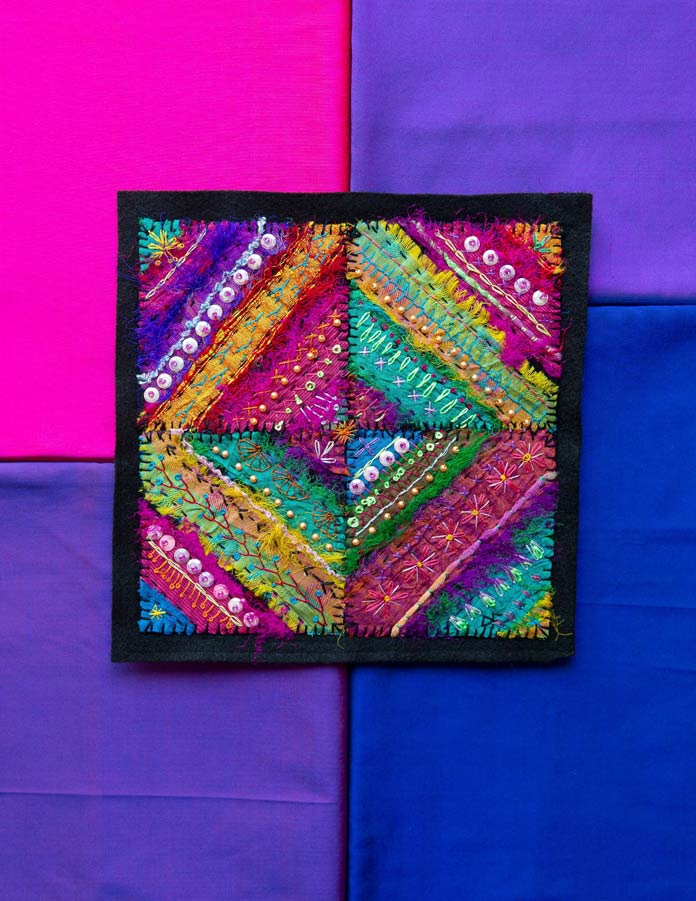 Indian Splendor has been one of my most popular fibre art quilts and recently published in Issue 46 of A Needle Pulling Thread magazine under Artist Review. This design is a sampler version and was inspired by a skein of Sari ribbon I purchased at Fibre Garden in Jordan, Ontario. The blocks are constructed by cutting up a block into squares and reassembling them into a new block design.
This Indian Splendor Sampler can be sewn completely by hand or by machine to speed up the process. Also, this is a chance to try out a variety of embroidery stitches and use shiny rayon threads. Use your decorative piece in a frame, on a bag or purse, create a pin cushion or needle case, put it on a tea cosy, greeting card or book cover.
Read more in our Issue 47.
Designed by Donna Funnell
Fibre Artist
Member of Oakville Fibre Artists
www.fibrejournal.blogspot.com
Facebook: donna.funnell.7