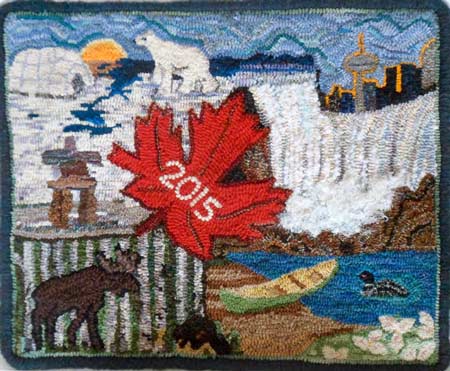 The Ontario Hooking Craft Guild (OHCG) members have been busy making rugs for each of the 41 countries participating in the Pan/Parapan Am Games in Toronto this summer.
It was a news article about the 2000 Pan Am Games, where the Native Women of Manitoba and Saskatchewan had sewn 'Star Blankets' as gifts for each participating country, that inspired OHCG member, Lorna Atkins, to follow suit. Her request to the OHCG Board to make rugs as gifts for each of the participating countries for the 2015 Games was welcomed and approved with much enthusiasm.
Members were asked to submit a 16″ x 20″ design containing Canadian content, with a goal to produce at least 41 rugs. Thereafter, twelve designs were sent in, and 64 rugs were hooked by OHCG members. Whether members worked alone or in groups, they worked with a great sense of community from across the province.
Different takes on each design made a splendid display at the OHCG 2014 Annual in Oshawa. There was a ceremonial presentation made to the Toronto 2015 Ignite committee, whose purview is to encourage community involvement in the Games. The rugs will be handed over to Ignite when the Games' Village is ready for their display.
Read more in our Spring 2015 issue.
Article by Maureen McIlwain
Multi Media Manager,
Ontario Hooking Craft Guild
Toronto, Ontario