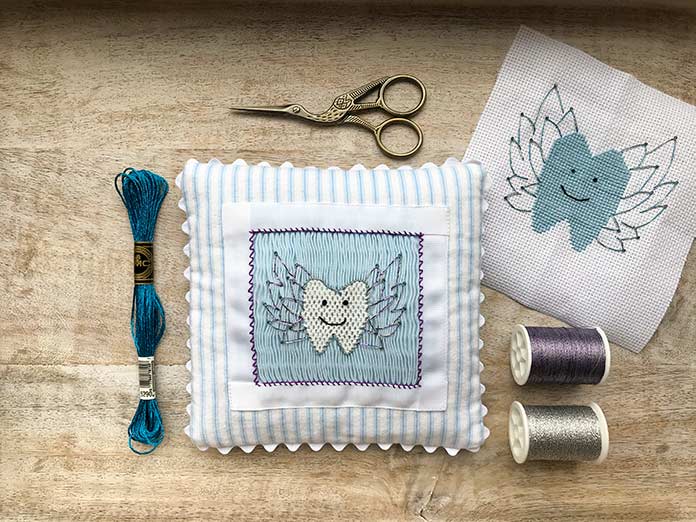 There comes a time in most children's lives when they'll no longer want to wear smocking. But do not despair if you're a mom or grandmother who loves to smock and still want to do so for your little ones. There are other things you can create which they don't have to wear – like this little tooth fairy cushion.
Picture smocking is yet another form of smocking which employs rows of cable stitches mirror imaged to build objects or delightful characters. When stitching this kind of smocking, it might help to think of it as building with Lego© blocks.
This little Tooth Fairy Cushion can be created in any colour using coordinating fabrics and trimmed with ruffles, piping or medium to large rick rack. Our sample has been stitched in flannel, framed in grosgrain ribbon and applied to the surface of the cushion fabric. Several stitches (which can be found in most embroidery books) and methods have been employed to achieve finished design.
f you don't smock, this design could easily be converted to cross stitch or quilted appliqué, even shadow work.
Download pattern.
Read more in our Issue 52.
Designed by Judith Marquis
Amberlane & Amberpetites
www.amberlane.ca