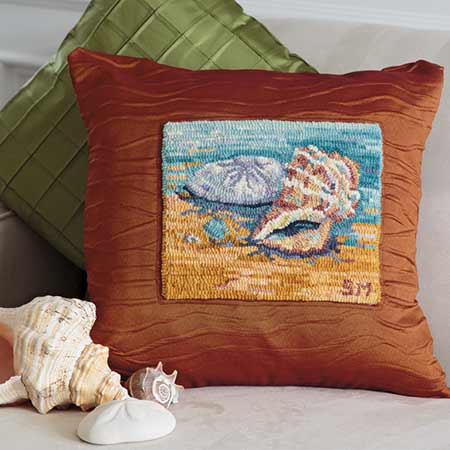 "This project is a one page pattern that works beautifully as a pillow centre. The design could be embellished with beads or it could be modified for a simple embroidery project."
Finding shells on the beach is an addictive pastime if you have walked along an ocean shore with the water lapping over your feet. For accomplished rug hooker, Sheila Mitchell, shells were the inspiration for this project. Originally designed for friends who are building a summer home by the sea, Sheila decided the shells speak of summer afternoons at the beach and sun filled days hooking a gift for friends.
A natural artist, Sheila draws her designs from nature in a realistic style. She dyes her own wool for her projects and she likes to experiment with texture. "I like small projects that allow me to explore new ideas and try new colour combinations or learn a new technique," she says.
An avid birder, Sheila's first designs were inspired by the birds she saw in her backyard. "One of my first major projects had birds in it," she explains. "It seemed like a natural progression to combine birds, realism, rug hooking and wool."
Sheila loves detail, which is a hallmark of the realistic style. She used to do tailoring because she loved to work with fabric and the detail that was required. Originally from Medicine Hat, Alberta, she was introduced to rug hooking when she visited her new in-laws on the east coast, but put off learning the craft until her twin sons were teenagers. She has been a dedicated rug hooker since that milestone occurred.
Read more in our Summer 2013 issue.
Designed by Sheila Mitchell
[email protected]