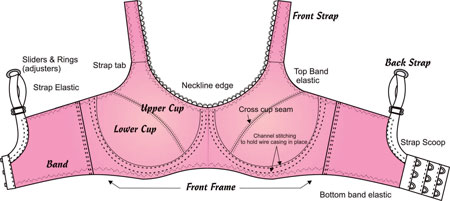 Making your own bra is not as crazy as it sounds – the results are a perfect fit and a choice of fabrics at a fraction of the price of ready-to-wear (RTW). Once you have perfected the fit, the sky's the limit when it comes to colour, fabric choice, and style options. Think of the possibilities! You can also offer to make fabulous designer bras for the women in your family, lovingly made by you!
The pattern used here is the Classic Bra from Pin-up Girls patterns. The Classic Bra is a full band bra, which means there is a band running under the cups. This also means that the bra can be made without the use of underwires if that's what you would prefer.
The sewing techniques explained are the ones used in bra manufacturing plants, modified for use on a regular zig-zag sewing machine. Is it difficult to make your own bra? The truth is – it is detail work but it is not beyond the skills of the average home sewist. "If you can set in a sleeve, you can make a bra!" I personally taught over 10,000 women (and a few men!) to sew their own bra and they were all at one time, where you are now!
Read more in our Summer 2013 issue.
by Beverly Johnson
Bra-makers Supply
308 Ottawa Street North
Hamilton, Ontario L8H 3Z9
905.538.1396
www.bramakers.com