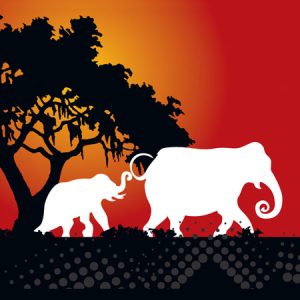 This is a variation on one of those annoying "mom" questions that we can ask our kids. Any of mine can tell you the answer with a roll of their eyes. How do you eat an elephant? One bite at a time! How do you tackle a new project, work out a new creative idea or tame a new technique? Bite by bite. This proven mom-ism can tame fears or punt procrastinations. Revelations often come with taking that first bite. By following the call to "just begin" we spark our creative energies with tantalizing hors d'oeuvres.
Some bites will be second-nature experiences like cutting fabrics or eating French fries. Others are less familiar, like creating a design or experiencing a complex flavour for the first time. These we can savour! They may require intense focus, but can teach new skills. Relishing one morsel concentrates our attention. Working on petite-sized exercises makes the creative process more manageable and clarifies what we really want to say and experience in our work. Our individual bites can be the amuse-gueule, or small tidbit to excite the palette, of creativity.
I experienced the power of small works at the opening of the 2009 Grand National Postcard Show. It features over 100 small art quilts in the form of fabric postcards.
Read more in our Summer 2009 issue.
Article by Debbie Bates
[email protected]
stitchtress.wordpress.com