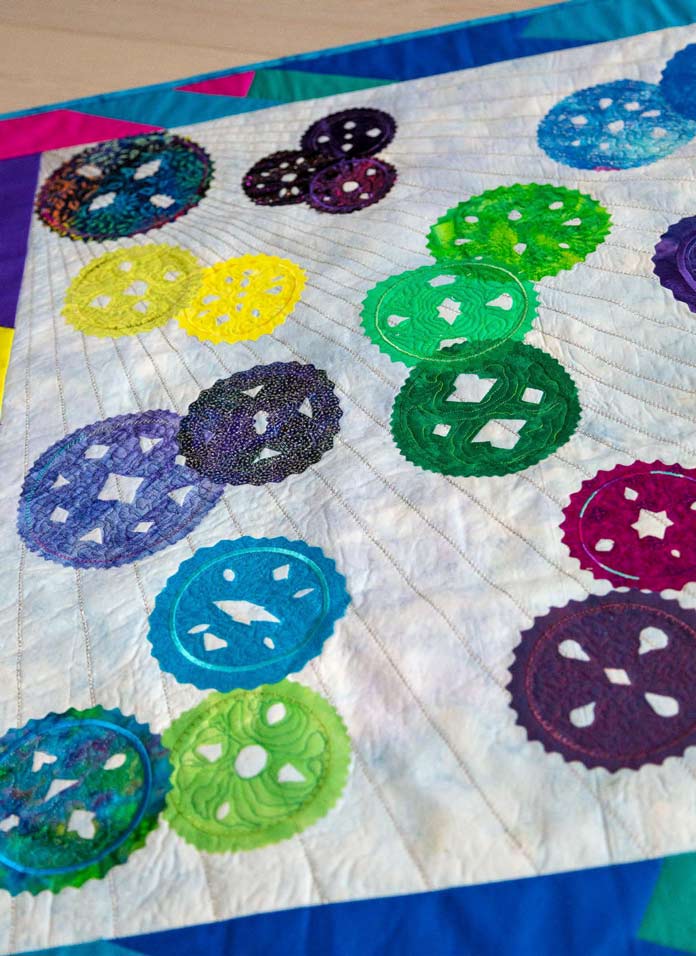 The theme of Finally Finding Yourself is expressed in this wallhanging by using a variety of fabrics, cotton, velvet, sheer etc., cut in different size circles. Shapes are cut out in the circles much like the paper snowflakes you probably made as a child. Just as no one snowflake is the same, every person is unique.
The circles in the wallhanging represent the journey through life, starting from the bottom right trio of circles, the family nucleus. The circles in the middle represent the people in our life that have influenced who we are at any given time. The top left circle, and the more prominent one, represents the self having gone from the family nucleus, through many life experiences and ultimately the person shaped by the influences of the people in our life.
The lines of yarn radiating from the top circle connecting to the rest of the circles represent the invisible threads that connects us to all the people in our life. When making this wallhanging create your own story and use various fabrics and shapes that best describe the people that have influenced who you are today.
Read more in our Issue 47.
Designed by Annette Janca
Education and Marketing Administrative Support
SVP Canada Inc.
www.husqvarnaviking.com
HUSQVARNA VIKING, EPIC and INSPIRA are
trademarks of Singer Sourcing Limited LLC. ©2018
Singer Sourcing Limited LLC.