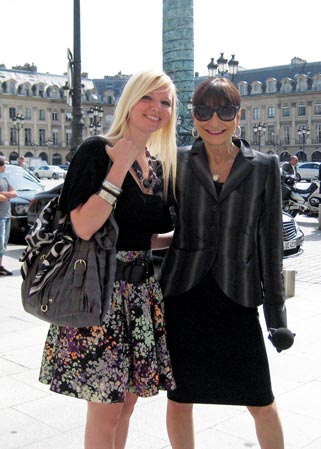 Last year, I decided to start the adventure of a lifetime. I booked my plane ticket and headed off to Paris to study Haute Couture Beadwork and Embroidery at the prestigious House of Lesage. Owned by Chanel, Lesage is currently responsible for 85 per cent of all beading and embroidery that grace the world's famous couture collections, ready to wear and accessory designs including Chanel, Christian Dior, and Lanvin. I had originally seen the atelier house featured on The Martha Stewart Show where they were showing the seamstresses hunched over wooden frames stitching hundreds of tiny cut glass beads, sequins and rhinestones onto gossamer cloth into wearable art. The moment I saw this beautiful form of art, I knew that one day I would be in Paris learning this exquisite trade. Unfortunately, hand beadwork and embroidery is a dying trade. The number of artisans is diminishing for a few reasons including crafts workers retiring, a younger generation unwilling to carry on family tradition, and cheaper labour being available overseas.
The house of Lesage offers a range of classes that are in fact apprenticeships and taught by the masters of the House of Lesage. I chose to take the Professional Couture Embroidery course, in which I earned my certificate. The other classes range from a one day course to others that last a couple of weeks, and range from beginner to expert. For my studies, I spent 150 hours at the atelier house and approximately another 250 hours working on my homework.  After learning all the stitches with my new Lunéville hook, I started my main project which would turn out to be a labour of love, finally taking over 300 hours of work to complete.
The embroidery technique for beads and sequins hand sewn on the reverse of the fabric used by Lesage is called Lunéville, named after the town in France that started it in the early 19th century.
Read more in our Spring 2011 issue.
Article by Sarah Cownley