Knit Together with Cynthia MacDougall
Fall is a season full of sumptuous colours and texture. The landscape turns into a palette of deep, rich colours, due in part to the change of light caused by the sun's aspect in the sky. We also get the textural sensations of crisp morning air, heavy, damp dew, and the crunch of falling leaves under our feet.
Knitting, too, offers wonderful textures, either in the choices of our yarns or in the way we form our stitches. The knitting projects in this issue echo the sumptuous textures of fall.
Apart from choosing a yarn that has a texture of its own – from soft, light mohair to funky, lumpy novelty yarns – knitters can add dimension to their fabrics by choosing certain types of stitches.
Simple stitches, such as garter stitch and ribbing, can create tremendous texture. By its natural construction, garter stitch creates high ridges and deep valleys which makes the fabric somewhat elastic. The valleys also trap lots of air for warmth. Denise Powell's Art Deco wrap, also in this issue, is a great example of this.
The vest in the photo of me at the top of this article offers an example of ribbing. It was knitted in an all-over k2 p2 rib, which gives the fabric surface some relief, and visibly vertical lines.
Although few of us have probably done so, a k1 p1 rib worked on large needles in a stretchy wool yarn can make an optically skinny garment that stretches to fit a surprisingly large frame. K1 p1 rib can be given an even deeper texture by knitting every knit stitch through the stitch below the one on the needle.

Read more in our Fall 2014 issue.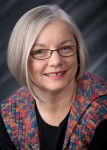 Article by Cynthia MacDougall
www.CGKnitters.ca
blog: cgknitters.blogspot.com
ravelry name: macknitnow