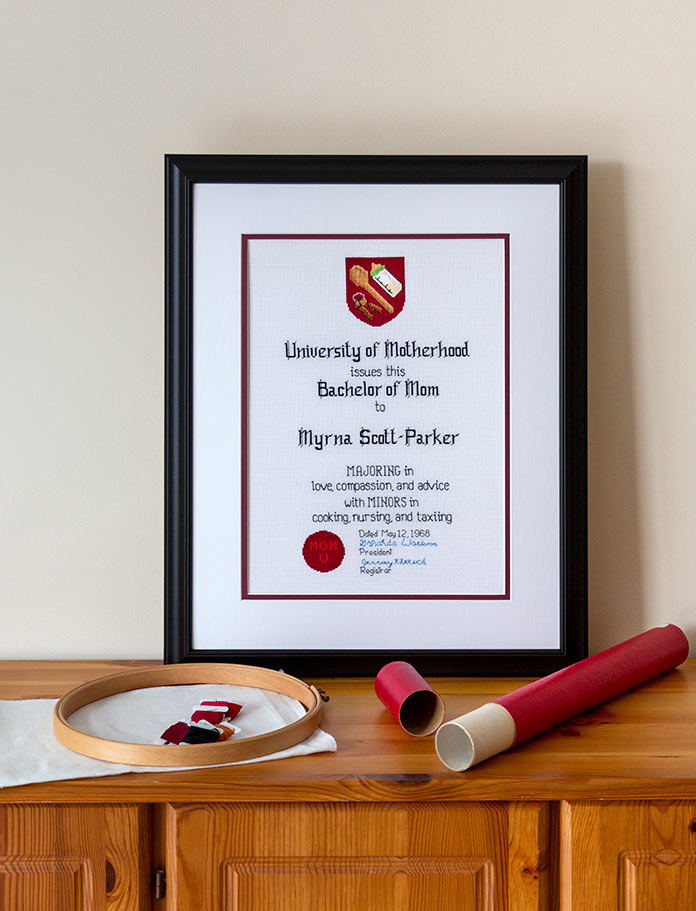 One day, when having a conversation with a mom who had recently had an exasperating chat with one of her children, I said, "You know, there should be a certification for moms – a "B. Mom," or something – so that at a time like this she can point to a plaque on the wall and say, 'that's why.'" And that's how the Mom Certificate got started as a project idea.
We brain stormed and created symbols for the crest that represent aspects of all that moms do: a baby bottle for food and nurturing; a wooden spoon for cooking and well, discipline…if you're of a certain age, and keys to represent home and 'mom's taxi.'
The name on our Mom Certificate sample is more than just a name. While developing the project, I wanted to include a name that was quite long, and, since my aunt has a hyphenated surname, we landed on my Aunt Myrna. She was like a second mom to me growing up, especially after my twin brothers were born, as she lived just two doors away. We spent hours doing crafts, and she taught me to sew on her old Brother machine.
Moms do so much for us – some of them even sacrifice their educational dreams to raise their families. Motherhood, it is said, is the toughest job of them all, and this certificate is a great way to acknowledge your mom for everything she does!
Download pattern.
Read more in our Issue 52.
Designed by Cynthia MacDougall
www.CGKnitters.ca
blog: cgknitters.ca/blog/
ravelry name: macknitnow