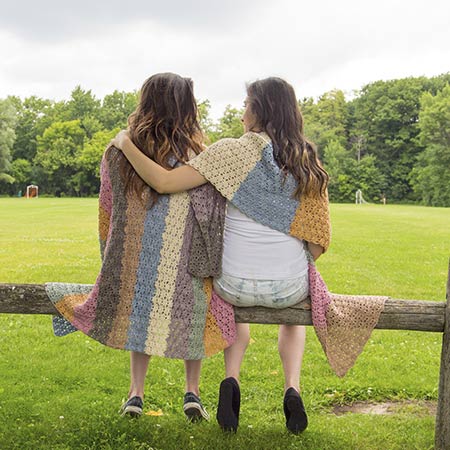 Sometimes we can fall in love with a scarf or wrap so much, we want to make it into a blanket. That was the thought Wendy of The Yarn Store had when she finished crocheting Madi's wrap. She was taken by the lustrous and soft cotton and alpaca yarn and wanted a bigger piece for extra comfort.
Here's a tip on how to turn the soft wrap into a very warm and luxurious blanket.
Use 2 skeins of each yarn as listed for the wrap. Use a I9 [5.5mm] hook and begin with 112 chains and use the same pattern as the wrap. One skein was used per row. Repeat the colour layout.
Read more in our Summer 2014 issue.
Designed by Madi Carlisle & Wendy L. Burton
The Yarn Store
17817 Leslie Street, Unit 40
Newmarket, Ontario L3Y 8C6
www.theyarnstore.ca
905.853.7001