Summer 2014

Inspired by the desire to relax and rejuvenate, this Summer issue has projects that are perfect for taking a day-off from your busy schedule. Easy projects to keep your fingers happy throughout the summer all the while keeping it simple. Make them for yourself, and even better, for someone in need of comfort. You won't want to miss the beautiful beach cover ups and so many more stitching projects in this issue.
You may also like…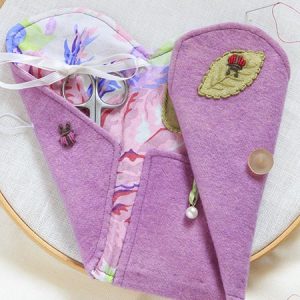 Victorian Sewing Pouch
In our sewing pouch we incorporated the edelweiss to represent Uschi's German heritage. The tiny white flower is a symbol of courage and purity. The ladybug is for Kerry's Irish ancestors, symbolizing protection and good fortune. The lily of the valley is a symbol of sweetness and happiness and the pearl represents wisdom, women, and faith. Designed by Ursula Greiner and Kerry Karram Wool Penny Rugs Enterprises Inc.
www.woolpennyrugs.com
$

2.95
Add to cart